So, if you read my Twitter, you might have seen this tweet over the weekend.
Th1rteen R3asons Why is the most depressing book I've read in awhile…
Which is, by the way, entirely true.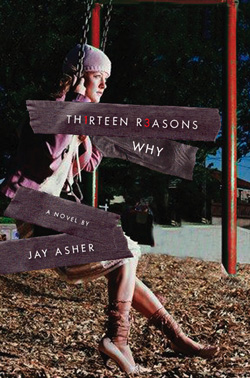 Th1rteen R3asons Why starts off with the main character – Clay – getting a box in the mail. That box is full of cassette tapes. Curious, he goes out to the garage, and using an old player, starts listening to them.
The voice he hears isn't some singer, no news clips, or anything. Instead, he hears a dead girl's voice.
Earlier, Hannah killed herself. And these tapes, which are to be sent to people – each person has their own side of the tape, and they're then to mail them on – who had a role in why she killed herself.
The book follows Clay as he painfully listens to the tapes. He doesn't think he belongs there – he liked her. He tried to help her. So why, why on earth, was he part of the reason she killed herself?
The narrative quickly (and sometimes confusingly) flips back and forth between Hannah's tapes – all in italics – and Clay's own thoughts. It's a mixed up mess, which describes Clay's mind just as well.
This is apparently Asher's first novel, and I'm hoping we get more by him. It's a compelling read – I couldn't put it down – and a quick one too. We're given thirteen stories, all of them leading to the end that we know happens. You want to say "Clay! Save her!" so many times, especially during his story, but sadly, we can't.
Pick it up on Amazon, and read it ASAP. Really good book.